Fat Brands – FAT NASDAQ -8.25% Offering Details
Boeing VS Airbus has created a tipping point for Southwest Airlines . Boeing announced it may cut production on the 737 Max thus leaving Southwest's expansion plans in the dumpster. Southwest is now forced to buy future growth through merger with either Jet Blue or Alaska Air.

In support of Southwest's multiyear growth model Jet Blue is most certainly in the mix . Jet Blue is in play and other airlines seeking a quick shot of accretive growth are listening hard .
Seven analysts rate Jet Blue a STRONG BUY. Serious investors must place these shares on their BUY list. The upside could result in a bidding war .

JetBlue (JBLU) will probably be the next player to confirm the strong state of the airline industry.. Shares have risen 20% on takeover – merger rumors .
Southwest will have little choice going forward and they must act decisively ASAP. JBLU offers an Airbus alternative and solution to Southwest's debacle.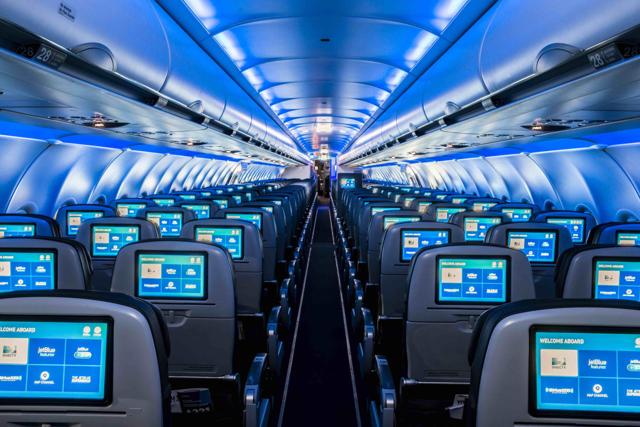 JetBlue Airways' JBLU third-quarter 2019 earnings per share (excluding 4 cents from non-recurring items) came in at 59 cents per share, which outpaced the Zacks Consensus Estimate of 53 cents. Moreover, quarterly earnings surged 37.2% on a year-over-year basis, mainly due to low fuel costs.
Operating revenues totaled $2,086 million, in line with the Zacks Consensus Estimate.Moreover, it compared favorably with the year-ago number. Passenger revenues, which accounted for bulk of the top line (96.1%), improved 3.3% year over year in the quarter under review. Other revenues were also up 21.6%.
Additionally, revenue per available seat mile (RASM: a key measure of unit revenues) in the reported quarter dipped 0.9% to 12.8 cents. Passenger revenue per available seat mile (PRASM) slid 1.4% to 12.3 cents. Average fare at JetBlue during the quarter inched up 3.2% to $181.26. Yield per passenger mile slipped 0.9% year over year to 14.39 cents.
Capacity, measured in available seat miles, expanded 4.8% year over year. Meanwhile, traffic, measured in revenue passenger miles, grew 4.2% in the reported quarter. Consolidated load factor (percentage of seats filled by passengers) contracted 40 basis points year over year to 85.5% as traffic growth was outpaced by capacity expansion in the September quarter.
In the third quarter, total operating expenses (on a reported basis) declined 4.7% year over year despite higher costs pertaining to salaries, wages and benefits. Average fuel cost per gallon (including fuel taxes) decreased 11% year over year to $2.06. JetBlue's operating expenses per available seat mile (CASM) declined 9.1% to 11.29 cents. Excluding fuel, the metric increased 0.3% to 8.33 cents.
JetBlue, carrying a Zacks Rank #3 (Hold), exited the quarter with cash and cash equivalents of $695 million compared with $474 million at the end of 2018. Total debt at the end of the third quarter was $1,636 million compared with $1, 670 million at 2018 end.
For the fourth quarter of 2019, JetBlue expects RASM between 0.5% and 3.5%, indicating a decline from the year-ago reported figure. For the same time frame, the carrier anticipates capacity to increase between 4.5% and 6.5%. The metric is now projected to improve in the 6-7% range for 2019 (earlier guidance hinted at capacity expansion in the 5.5-6.5% band).
Consolidated operating cost per available seat mile excluding fuel is expected to either decline 1% or increase up to 1% in the fourth quarter. For the current year, the metric is still predicted to increase between 0.5% and 1.5%. The company reaffirms effective tax rate of around 26% for the full year.
Fourth-quarter fuel cost, net of hedges, is estimated to be $2.07 per gallon. The company is well on track to achieve its 2020 EPS target, which is in the $2.5-$3 range. The Zacks Consensus Estimate for 2020 earnings is currently pegged at $2.34.
Total capital expenditures for the fourth quarter are expected between $490 million and $610 million. While the metric is forecast in the range of $1,150-$1,300 million for the ongoing year
Neither PSN nor its owners, members, officers, directors, partners, consultants, nor anyone involved in the publication of this website, is a registered investment adviser or broker-dealer or associated person with a registered investment adviser or broker-dealer and none of the foregoing make any recommendation that the purchase or sale of securities of any company profiled in the PSN website is suitable or advisable for any person or that an investment or transaction in such securities will be profitable. The information contained in the PSN website is not intended to be, and shall not constitute, an offer to sell nor the solicitation of any offer to buy any security. The information presented in the PSN website is provided for informational purposes only and is not to be treated as advice or a recommendation to make any specific investment. Please consult with an independent investment adviser and qualified investment professional before making an investment decision.